About Our Name
Our name came from the early days of A.A. where sponsors often said to sponsees, "Get in the Car"– which meant, we're going to help another alcoholic. THAT – is our 12th Step of recovery.  Our group members are "ALL IN" and committed to helping the still suffering alcoholic* in any way our program of action allows.
* Our group supports A.A.'s "Singleness of Purpose" in that our meetings will only focus on our problems as they relate to alcohol.
The Spirit of Our Group
The guiding philosophy of our A.A. group is to create a family of alcoholics who come together solely focused on the teaching, learning, growing, and practical application of the 36 spiritual principles found in our Steps, Traditions and Concepts of World Service. It is our prayer that we remain diligent in embodying this spirit of all three of our legacies with everything we do, so that we create a space for those who crave that very same fellowship. We believe that our actions speak louder than our words, and members of our group will seek to uphold these spiritual principles and support this family in all they do.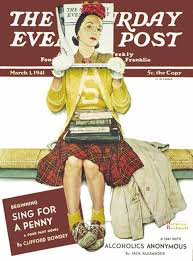 A very wise member of A.A. once said to a group of drunks: "If Jack Alexander* were to come to OUR group, close his eyes, and use what he heard to write a NEW article about A.A…, what would he write?"  It is our hope that every person who is a member of our group keeps this in mind when suiting up and showing up!
(* Jack Alexander wrote the popular March 1941 Saturday Evening Post article about A.A.)
Our Commitment to Service
Our group fully participates within the A.A. General Service structure and the Northeast Texas Area 65 of Alcoholics Anonymous by having a General Service Representative (GSR) and Alternate General Service Representative (AGSR) that have been elected to be our group's voice when business decisions are being made for A.A. in the U.S. and Canada.